How do you know what reformer is right for you?
We designed our reformer with your experience in mind. It needed to be easy to set up and use at home, while feeling like the reformers you use in the studio. This meant combining intuitive design with professional grade materials for an exceptional experience.
Purchasing a reformer is an investment, so let's discuss how our reformer stacks up against the other professional grade reformers on the market.
Here is what to look for when buying your at-home reformer

Engineered for customization and comfort
Compared to other reformers, the Flexia Reformer accommodates the largest range of body sizes. With its removable, 4-position Padded Footbar, one-hand adjustment, 3-position Springbar, adjustable, 4-position Shoulder Rests, and easily adjustable ropes, our reformer can comfortably fit most people between 5'0" and 6'6" tall and supports up to 350 pounds.
Our reformer can also be easily transported, stood up on end for storage, and has more travel than standard size reformers, so plenty of room if you're tall! It is also high enough that you can comfortably get on and off of it even if you have mobility issues without being so high that it feels like you are going to fall off.
All major accessories are included. No hidden costs.
When you purchase the Flexia Reformer, you also get:
A full size sitting box and padded foot strap

Removable standing platform

Jumpboard
These accessories are essential for the full Pilates reformer experiences and yet are rarely included in professional grade reformer packages. When purchased separately, they can run you an extra $600 or more. Our reformer costs, on average, $1100 less than comparable packages from non-tech enabled reformers.
An online studio and innovative technology to eliminate confusion and give you a personalized workout
Even if you're an experienced Pilates practitioner, one of the biggest challenges has always been finding online classes specific to the reformer that you have. For example, many reformers come with different spring colors and tensions and not all exercises can be performed on the different models, because of the differences in reformer heights, sizes, or footbars.
Our reformer is paired with an online studio devoted exclusively to the Flexia Reformer. It includes detailed instructions that show you exactly how to set up and adjust your reformer and classes where the instructors are using the same machine that you have in your home.
Plus, our reformer is enabled with patent-pending sensor technology that gives you real-time feedback, tracks progress, and makes personalized recommendations on what to do next with our proprietary Movement Quality Score (MQS).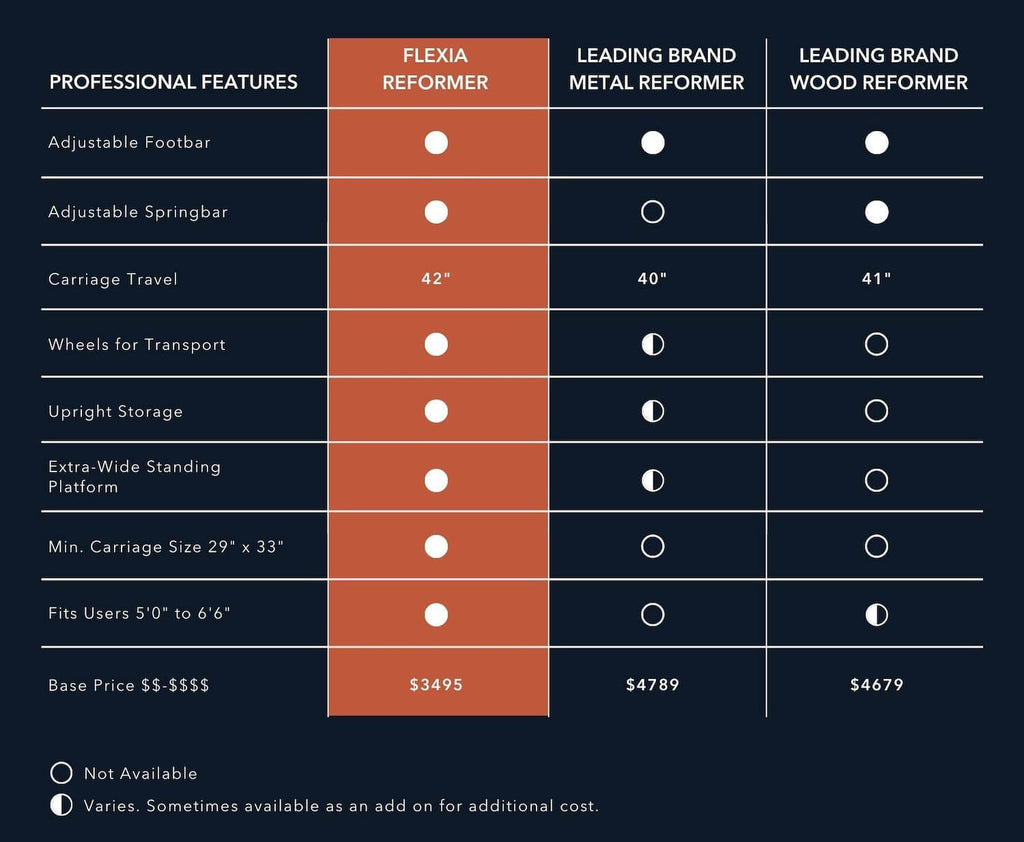 The Flexia Reformer retails for $3,495 and includes the critical accessories you need for a complete Pilates workout. Given that the average professional grade reformer that you find in a studio retails for over $4600 and does not include sensor technology, when you compare it to the Flexia Reformer the value speaks for itself.