If you want access to a convenient, low impact, effective, full body workout, having a Pilates reformer at home can be an amazing investment. However, it can be confusing to know which one will best fit your needs.
If you're looking to purchase a Pilates machine for home use, this guide details the most important considerations to help you make an informed decision about which reformer to buy.
How much space do you have to use and store your Pilates reformer at home?
Before purchasing your machine, it's helpful to consider where you plan to use it and how you plan to store it. In addition to the reformer fitting into your physical space, you should account for how much space it takes to practice the exercises. We recommend having at least a foot (12") of space on the head and foot ends, and two feet (24") of free space on either side of the reformer during a workout for a total floor space of 114" x 78" (9ft 6in x 6ft 6in).
If you have limited space, you may want a reformer that can be stored upright, allowing you to use that room for activities outside of your workout. For comparison's sake, the footprint of a commercial Pilates machine that you'd see in the studio is 93" x 24.5." Our reformer has a footprint of 90" x 30," so it doesn't take up any more floor space than a typical commercial Reformer. The Flexia Reformer is also fitted with built-in transport wheels, so it can be easily moved and stored upright assuming that you have ceilings at least 8' high. Here are more tips for setting up your at-home workout space.
Who is going to use your Pilates reformer at home?
When it comes to fit, one size reformer does not fit all. If you have multiple people in your household who plan to use the reformer, then you'll want a machine that comfortably fits your smallest and largest household members, so everyone gets an optimal workout.
It's not uncommon for the average reformer to be too narrow for many larger bodied people to comfortably lie on their back with their arms supported while still not being adjustable enough for people on the smaller side to effectively use it.
Additionally, many people with longer torsos find that they don't fit well on many commercial reformers when lying on their backs, because their butt hangs off the end. Our reformer carriage is long enough to ensure that even our longest torso friends can comfortably lie on it with their pelvis fully supported.
With a carriage that is 6" wider and 3" longer than our contemporary counterparts, the Flexia Reformer was built to fit varying body shapes and sizes and is the most customizable Pilates reformer on the market. It includes adjustable shoulder rests, springbar, headrest, ropes, and a padded footbar to fit most body dimensions between 5'0" and 6'6" tall. Finally, while it doesn't take up any more space than a commercial reformer, it also gives you more carriage travel for certain exercises like lunges and jumping.
How easy is the reformer to assemble and use?
Not sure how to get a sofa sized box from your sidewalk to your workout space? Us either. That's why we ship our reformer in multiple boxes so one person can receive and assemble the machine. We also designed it to be easily assembled without professional assistance, because having a Pilates reformer at home shouldn't require an engineering degree. However, we know that you may not have the time or energy to do this yourself, so we have in-home assembly delivery available for an additional fee.
Once your reformer is set up, it's also important that you and all of your household members can easily adjust it to fit your proportions and have a safe and effective workout. Different brands of reformers have varying levels of customization and ease of adjustment. We designed ours to be highly adjustable, but also intuitive.
Here are four key ways the Flexia™ Reformer can be adjusted:
Removable, 4-position Padded Footbar
One-hand adjustment, 3-position Springbar

Adjustable, 4-position Shoulder Rests

Easily adjustable ropes

2-position headrest for laying flat or supportive elevation
…and we also provide ample education on how to choose your personalized settings for the best workout. Learn how to Find your FitTM, here.
A final consideration for ease of use is whether there are online classes dedicated to your specific machine. This is important because if your Pilates reformer at home is different in height, spring setting, or adjustability, then you may not be able to do the same exercises as the instructor in the class you're taking.
Our online studio has on-demand classes exclusively demonstrated on our reformer at a variety of skill levels, lengths, focuses, and intensities to fit your goals and schedule where you'll never have to guess at what reformer settings you need.
Does your home reformer have technology to give you personalized feedback?
A common question we get is can you use a Pilates reformer at home and get good results? After all, personalized feedback, which we often receive in a studio setting, can be a powerful tool to help you perfect your form and see results faster. Since you don't have a teacher in the room when working out at home, technology works well as an alternative.
The Flexia Reformer is equipped with patent-pending sensor technology that gives you real-time feedback, tracks your progress, and makes personalized recommendations on what to do next with the proprietary Movement Quality Score (MQS).
This way, you can be confident you're doing the exercises correctly at a pace that matches your current fitness level and goals.
How much value do you get for the price?
When considering the value of your reformer, here are some of the factors that you'll want to consider in the price.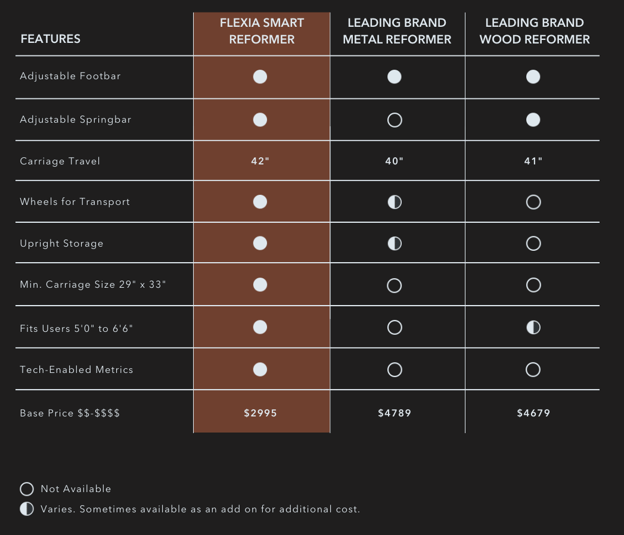 The average professional grade reformer retails for over $4500 and doesn't include sensor technology or the accessories you need for a complete Pilates workout, such as the jump board, standing platform, and sitting box. Additionally, these reformers are not designed to be easily set up and used at home.
The Flexia Smart Reformer, our standalone reformer option, retails for $2995. To get our reformer plus all the accessories you'll use within our Online Studio, select the Flexia Smart Reformer + All-In Bundle, retailing for $3795. Not sure which option is right for you? Take this short quiz.